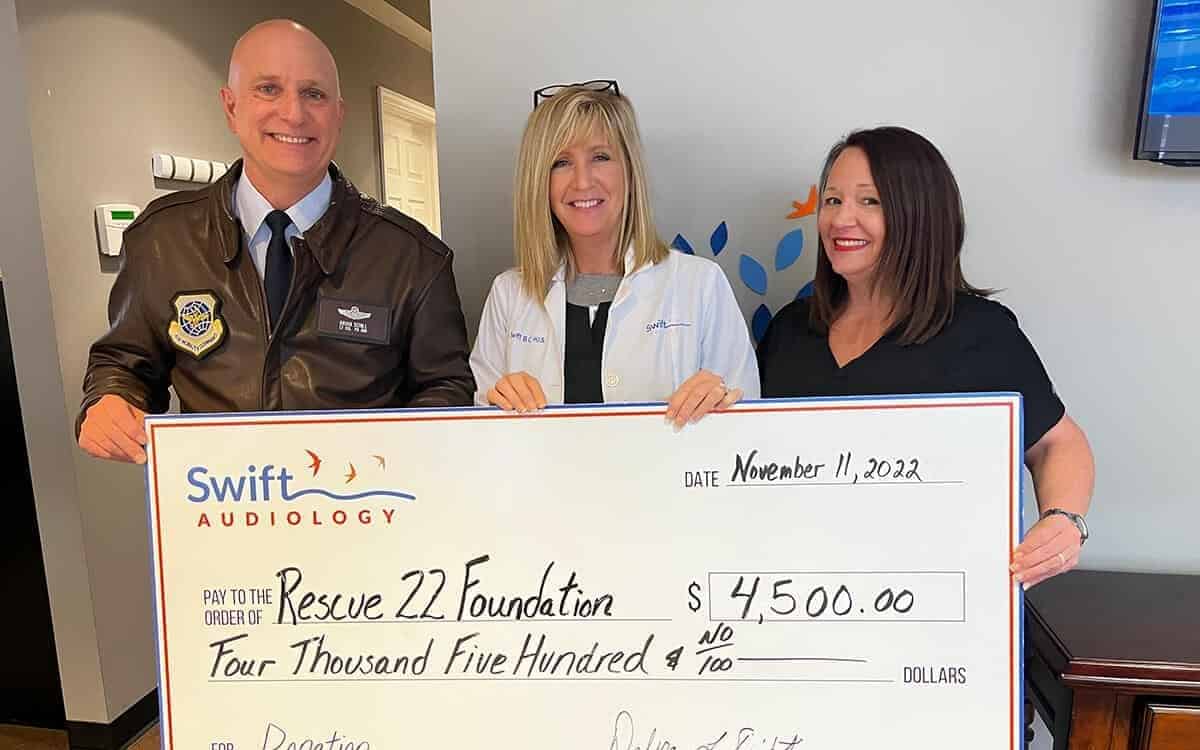 SWIFT AUDIOLOGY SUPPORTS LOCAL VETERAN RECEIVING SERVICE DOG
Friday, November 11, 2022, Pittsburgh, PA….. Swift Audiology presented a donation of $4,500 to benefit Rescue22 Foundation – a nonprofit organization providing service dogs to veterans. Accepting on behalf of Rescue 22 to benefit Marine Corp Veteran Josh M. is Lt. Col. (ret) Brian Schill, Executive Director of Peters Township Chamber of Commerce. To date, chamber member, Swift Audiology has donated over $13,000 to the Rescue 22 by setting aside a portion of each hearing aid sold. Through this effort, the company has been able to help two Pittsburgh Veterans obtain their service dogs
Angela Connor, CFO/Treasure of Rescue 22 Foundation, shared how the funds will help a local veteran living in Cranberry Township.   "Service Dog Candidate Lincoln will be placed with Cranberry Township Marine Corp veteran, Josh M.  Lincoln will work to assist Josh with panic attacks, night terrors and assist him with creating a perimeter in crowds. Lincoln will also provide Josh with bracing due to back issues that he suffered in a combat-related incident. Lincoln wears a custom harness, designed especially for bracing and balance that will assist Josh with standing from a seated position. Josh recently joked that he has several problems rolling up from the floor when he plays with his young daughter.
Josh credits fellow Marine, Brandon Rumbaugh, with inspiring him to apply for a service dog through the Rescue 22 Foundation. He saw Brandon at a local event with his service dog and the two spoke at length regarding the benefits that Hatfield – Brandon's service dog, had brought to his life. We are humbled to serve yet another Pittsburgh area veteran and thank everyone at Swift Audiology for their dedication to our mission. At this time, Josh continues to live a fairly private life, but we look forward to continuing to share the progress with all of you."
https://www.rescue22foundation.org/success-stories/media/
Rescue 22's Veteran Service Dog Trust [VSDT] fulfills the foundation's primary mission to provide the highest quality task-trained dogs on behalf of our nation's veterans. Our foundation provides psychiatric, mobility, and medical service dogs to our veterans at no charge and without geographic restrictions. Service dogs that meet the needs of veterans diagnosed with Post Traumatic Stress remain our most requested type of dog. The VA does not provide funding for service dogs for PTS, TBI, or other non-mobility diagnoses at this time.
Generous donations from our supporting individuals, companies such as Swift Audiology, and sponsors provide the following services that make our life-saving dogs possible:
Training (the average service dog trains for over a year)
Animal care including food, veterinarian services, and grooming
Service dog and handler equipment
Handler education
Service dog and handler integration
Service dogs are trained directly by our master trainers at our campus locations at Coastline K9, Devine K9s, and Ridgeside Carolinas.
Swift Audiology, independently owned and operated since 1986 with 3 locations throughout Pittsburgh is a proud supporter of the Rescue 22 Foundation.  Our veterans have given so much – it's time we all do our part to give back.
You can donate directly to Rescue 22 Foundation at www.rescue22foundation.org/donate/. Call our office at 724-222-9010 or visit www.swiftaudiology.com to learn more.