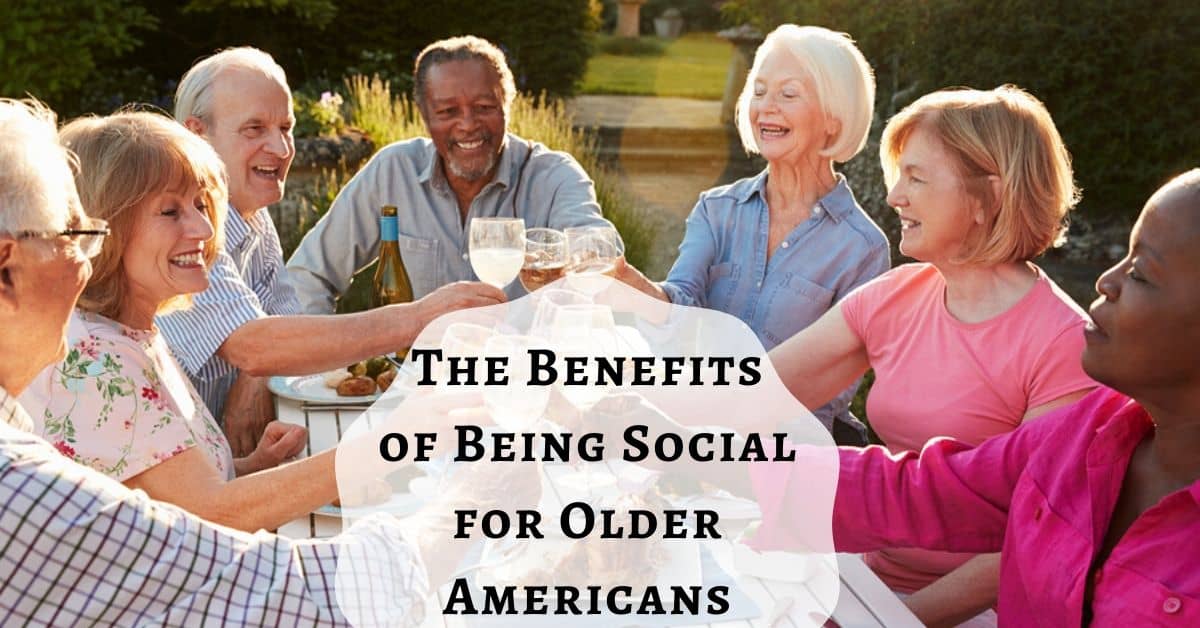 The Benefits of Being Social for Older Americans
Building social relationships and communicating with other people is an enormous part of what forms our lives. Sustaining a socially active way of life can directly impact your mental, physical and emotional well-being whether you are introverted or extroverted. Indeed, participating in social interactions regularly can be just as beneficial as exercising to improve your mood and overall health.
Here are some of the key benefits to staying social in your retirement years.
Reduced depression: Depression is prevalent in older adults, so it is vital to explore ways to fight depression in your older years. Establishing an active social life will help to fend off the loneliness that can cause depression. Associate with good people who will improve your everyday life.
Better cognitive function: Social interaction can also give the cognitive health of seniors a considerable boost. Consistently positive social experiences help to keep older adults intellectually stimulated and socially informed. Perhaps unsurprisingly, regular stimulation of cognitive areas will help to avoid cognitive decline including Alzheimer's disease and other types of dementia.
Arrest health decline: Regular social communication can alleviate the symptoms of failing health according to a 2011 study. Participants who led more socially active lifestyles established health problems later in life and at slower rate than those who lived more solitary lifestyles.
Better physical fitness: When adults age, they often become less physically active and more into sedentary activities like watching TV, and these habits pose a potential risk for illness and early death. It may be difficult to get older people to exercise because of health restrictions, but it may be easier to reach out to friends, go to group events or meet ups that require walking to get there. Social interaction in these situations can also boost physical activity and various behaviors in order to enrich health without automatically leading to a full-blown workout.
Reduced stress: Enjoying a time in the company of friends can reduce tension, which will lower blood pressure as well as the likelihood of a heart attack.
What is stopping older Americans from socializing?
Although these health benefits associated with social interaction are no doubt considerable, it's important to recognize some of the challenges that senior citizens face that may prevent them from achieving an active social life. Here are some of these challenges:
Health issues
Mourning the loss of a partner or loved one
Mobility or physically isolation issues
Cognitive decline
Less access to family for help
An examination of this list of challenges would reveal that some of them are more difficult than others to conquer, but it is essential that both the older adults and their loved ones aim to remove or minimize them as much as possible. If they don't, engaging in social activities that offer the different benefits listed will be far more challenging.
Benefits of hearing aids
Regarding physical ailments, a common issue among seniors is hearing loss. According to the National Institute on Deafness and Other Communication Disorders, almost 25 percent of individuals aged 65 to 74 and 50 percent of those who are 75 and older have a hearing loss which prevents them from living the life they want.
Treatment of this hearing loss remains one of the most effective ways to help improve social connections. In a recent study of hearing aid users along with those with untreated hearing loss, researchers found that 4 out of 10 participants ' lives improved with the use of hearing aids. They noted positive outcomes in many areas, from self-confidence to working relationships to physical independence. Also, due to hearing aid usage, 75 per cent reported at least one part of their life changing for the better.
One of the most important benefits of hearing aids is to help you understand others again, even in noisy places. No longer will you refuse social invitations simply because it is too much work to engage in conversations with others.
Swift Audiology
We provide extensive hearing tests that will reliably detect any hearing loss level, and hearing aids that can significantly improve your comprehension of speech in noise, helping you improve your quality of life. Contact us to set up an appointment.